Frieze Sculpture Park
Sunday 9th July 2017
Another successful sculpture installation.
Jayhawk Fine Art Transportation was commissioned to manage and install;
Magdalena Abakanowicz,
Standing Figure with Wheel (1990)
Marlborough Fine Art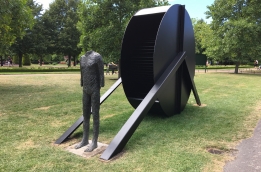 Project Management and installation undertaken entirely in-house. RAMS, specialist HIAB vehicle, CAT scans and set-up all by Jayhawk's experienced sculpture installation team.
Come see this sculpture and all the others at Regent's Park.